Discover Nusa Penida, Bali
Nusa Penida is an island located East of Sanur so you will start your day trip from our dive centre in Sanur.  Most of the sites there can be reached in less than 35 minutes on our speedboats.
Nusa Penida Dive Trip Packages
Nusa Penida 2 dives
Manta point, Crystal Bay
1.100.000Rp (~85 €)
Nusa Penida* 3 dives
Manta point, Crystal Bay, SD: Drift dive
1.200.000Rp (~95 €)
All Bali Dive Trips above include dive equipment, transport, local tax and guide fees as well as a lunch box. *Offer valid only for groups of 4 peoples or more, contact us for more information. If you are flexible on the dates, we might arrange a group of individuals.

Our Dive Boats
My darling 1 : Twin 200 Hp engines, capacity 12 divers for up to 3 dives, toilets and oxygen. My darling 2 : Twin 90 Hp engines, capacity 6 divers for up to 3 dives, toilets and oxygen.

Nusa Penida and Lembongan recognized as one of the best location to see Giant Manta Rays, Mola Mola, and do drift dives. Nusa Penida is known for its two Manta points, located in the south part of the island where one is almost sure to see some of those large marine animals that grow 4 to 6 meters wide.
The area is also one of the top 5 best spots to dive with the famous Mola Mola (Sunfish).  Visiting us from July to October increases your chances to encounter them in the wild.  It is not unusual to see a couple of Mola Mola, during a dive trip. We personally saw 4 Sunfish on a single dive.
Dive sites in the Nusa Penida and Nusa Lembongan area offer clear water with healthy coral and abundant fish life, including pelagics.  In addition, we can help you discover additional dive sites such as Blue Corner, SD, Toyapakeh, Malibu Point, Crystal Bay and many others.
Crystal Bay
Crystal Bay is one of the most famous sites in Bali.  It is one of the only places in the world where you can see the giant sunfish (Mola-Mola) from July to October.  Pelagics come from the depth to be cleaned by gilt fish and angel fish which are waiting in between 25 and 50 meters. The water is very clear, and the bay which is 10 to 50 meters deep is very beautiful. Besides the Mola-Mola season, the diving is excellent because the site is very rich in coral reefs and you will see many reef fish (different clownfish, oriental gatrins, anthas, triggerfish, angelfish, cochet fish and many more.)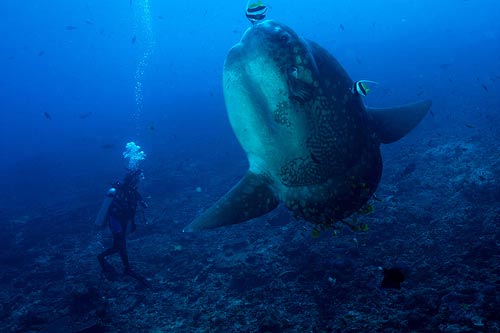 Manta point
Manta Point is located in the south part of Nusa Penida.  It is a ratchet which is located in a small bay near the cliff where Mantas come to be cleaned.  You can see them almost throughout the year because the site is rich in plankton.  Waiting their turn, the mantas turn around divers playing with their bubbles.  It's one of the most impressive dives around Bali!
Contact us as soon as possible to book a trip to Manta point to make sure there is space for you on the boat.  This day trip is, as you might guess, very popular, with the sight of a giant Manta rays almost guaranteed.
Our three dive safari usually starts with a dive at Manta point (Manta ray), then continues on to Crystal bay (Mola mola, pelagics, and wonderful reef), and concludes with a drift dive north of Penida, usually SD or PED.
Download our Dive Trips, Dive Courses and Dive Packages price list!
Book your Nusa Penida Dive Trip today with Dive Concepts!