Bali Diving in Padangbai
One of Bali's most popular area for Advanced Divers. Padangbai offers a wide selection of dive profiles for divers holding their PADI Advanced Open Water certification and having logged at least 20 dives.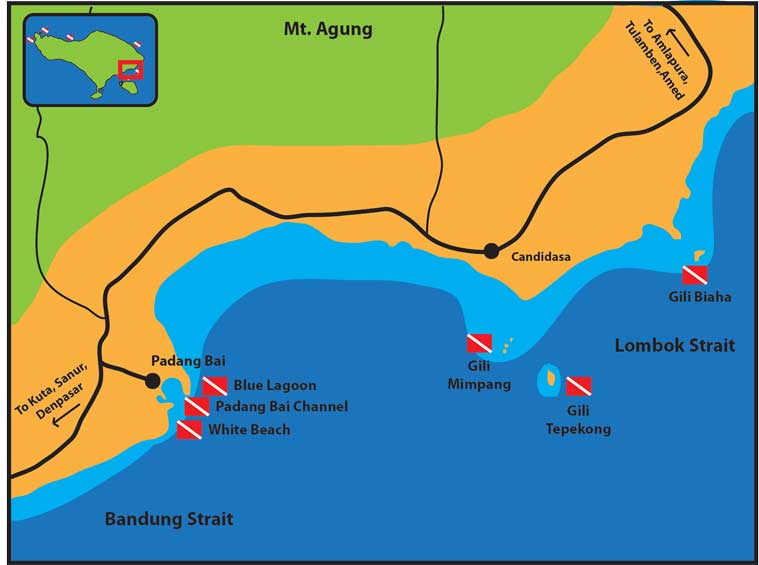 The area is somewhat challenging due to its high current. That said it is also one of the most rewarding areas in Eastern Bali. There you will see sharks, turtles, scorpion fish and other marine wildlife while diving wall and drift dives swimming by underwater cliffs, a cave and schools of tuna.
All Bali Dive Trips above include dive equipment, transport, local tax and guide fees as well as a lunch box. *Offer valid only for groups of 2 peoples or more, contact us for more information. If you are flexible on the dates, we might arrange a group of individuals.
Padangbai Area Dive Sites
Gili Tepekong (Boat dive)
This is the most famous and largest site. It is located 30 minutes from Padang Bay by boat (10 minutes from Candidasa). Depending on conditions, you can dive on various sites around Tepekong.
Its canyon which has a striking structure attracts pelagic fish such as moon fish (Mola-Mola), sharks (white tip or others), large napoleon fish and parrotfish. Its canyon looks like a huge mountain due to the current. Its corals are is protected, calmer than the canyon and becomes an hiding place for the juvenile white tip sharks, reef fish, nudibranchs and many others…
Because of its distance from the coast, this site can provide pleasant surprises at any time.
Gili Minpang or Three Rocks (Boat dive)
This site is a group of 4 rocks near Tepekong. The rock on the south is damaged because from 1961 to 1962 the Indonesian army did military trials that broke its structure. You will see hard and soft coral. This site is full of small reef fish, white tip sharks which are being cleaned regularly and possibly humpback parrotfish, wrasses and turtles. A very interesting site to explore!
Gili Biaha (Boat dive)
It is the furthest site from Padang Bay which is famous for its shark caves. If conditions permit, you can go there and approach the white tip sharks that rest there during the day. Emotion guaranteed!
Download our Dive Trips, Dive Courses and Dive Packages price list!
Book your Padangbai Dive Trip Today with Dive Concepts!